Manipulating the Fetus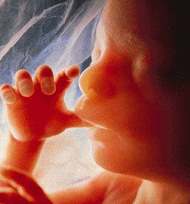 New understandings on foetal suffering (7 March 2005)
[...]

Research leader Professor David Mellor says there is no doubt that babies before birth react to a range of stimuli because the sense organs of fetuses in the uterus begin to work well before birth. Ever wondered how watching TV and films have influence over the fetus? And how much of children's present behaviour is juat playing out a script that is already written

"Touch, sound and other stimuli have various effects on the body, including eliciting movements. But the evidence, accumulated over the last 25-35 years, is that this does not occur at the conscious level. There are many other examples of sensory inputs that have effects on the baby (including body movements) that do not involve consciousness. For instance babies with no cerebral cortex (the part of the brain essential for consciousness) can respond with movements and hormone release and heart rate changes.

Sensory input (resulting from stimulation of touch, sight, sound, taste and other sensory nerves) does occur in the fetus and does have effects. Although the evidence is that this is not at the conscious level, it is possible, and some evidence suggests that it is in fact likely, that such effects persist well beyond birth."

Professor Mellor says such effects will be very significant in nervous system development: "There is reason to consider that some might very well be at least benign, and perhaps even positively advantageous, depending on what they are. Playing music and speaking softly could well have beneficial effects."

[...]

----------------------------------------

Imagine for a moment the impact of TV (and films) on the fetus. Some of the behaviour of children could be just "acting out" the script that is already "wired in" at the fetal stage.
These are behaviours that contribute to a highly consumeristic and crassly materialistic society. These are behaviours that show life as one big entertainment.

Critical media education must probably start with mothers and their habit of watching TV and films.